Resources
"STAR BAT" LTD have and grow the neccessary human and production resourses for execution of the the given projects
Our company have long term partnership with main suppliers of heavy and light equipment.
OUR TEAM
The team of the company works with attention to the detail and strictly observe all regulations and design requirements.
"STAR BAT BULGARIA" offers optimal technological solutions, accurate planning and execution in the shortest time schedule.
"STAR BAT BULGARIA" OOD is working with design studios of standing which are able to elaborate modern and high-graded projects.
The development of the company and its stable position in the Bulgarian construction market are guaranteed by the excellent quality in the management and realization of the assigned projects.
The company is certified and is working on standards for Quality Management ISO 9001:2008.
"STAR BAT BULGARIA" Ltd. is a member of the Chamber of Builders in Bulgaria and is registered in the Central Professional Register of Builders for projects from the first, second and fifth group of buildings.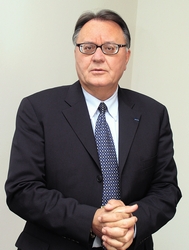 The owner and director of STAR BAT Bulgaria is const-ruction engeneer, who started his profesional expe-rience in the group "C.G.E."(Societe General Enterprise) as manager of construction site.
In his job he develop to directoor Building department and after that it has the opportunity to be the director of branch of the company in Kan/FRANCE.
Patrik Favre manage the execution of great construction projects in Europe and North Africa.
Since 1992 he is dedicated to his work in Bulgaria
Mr. Favre is the president of the French-Bulgarian Chamber of Commerce